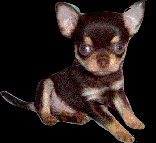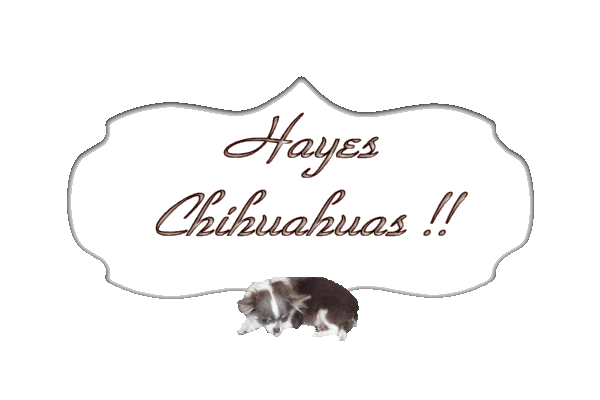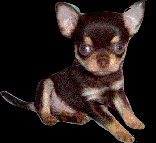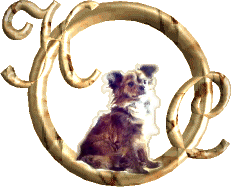 My Guarantee!!

Limited Health Guarantee

Limited Health Guarantee
HAYES CHIHUAHUAS is:
Committed to giving you honest, courteous service.
We raise healthy, social and loving pets for a life time of happiness.
We want our puppies to be the best companions that they can be;
that is why we put so much time and effort into socializing them.
That is why we feel comfortable offering a health guarantee on all our puppies.
To all of Hayes Chihuahuas customers, if this agreement is not signed for any reason, it shall still hold true
to all Hayes Chihuahuas puppies to protect both Buyer, and Seller unless other arrangments
have been made in advanced and signed on. Hayes Chihuahuas does reserve the right not to replace a puppy if felt the puppy was treated incorrectly, which includes improper diet. In which case, no puppy shall be replaced, this is to protect any future puppy from going through any type of mistreatment or concern.
If you should have any other questions or concerns, please feel free to email Hayes Chihuahuas at (laurieslyngo10645@yahoo.com)
AGREEMENT OF SALE
Date: __________________________________________________________________
Sold to: ________________________________________________________________
Address:________________________________________________________________
City/State/zip:____________________________________________________________
Telephone: _____________________e-mail: ___________________________________
Chihuahua: M___F___ Registration or Litter # ____________________________
Sire: _________________________________Dam: _____________________________
Whelped: __________________________ Microchip # __________________________
Price: $ _______________Less Deposit: $ ____________Amount due:$_______________
Method of payment: Cash:________________ Money order:______________________
________________________________________________________________________
This agreement is made on this ____day of __________, 2004 between (hereafter "seller"), and (____________________) (Hereafter "buyer"), for the purpose of setting forth the terms and conditions of the purchase of the purebred Chihuahua identified above. Buyer will pay for the dog in accordance with the terms of this contract. Sale is contingent on full veterinary approval within 72 Hours( 3-three days). If the buyer fails to seek prompt veterinary attention within (3) three days, he/she forfeits all rights for replacement only, for medical reasons. The Purchase price of $______________is to be paid by the buyer. All payments must be made in cash or money order. A non-refundable deposit of $_________ was made and the puppy will be held until (____________). On that date the balance of the purchase price, less deposit totaling $____________must be paid in full or the deposit and all money paid is forfeited and alternate arrangements will be made for the placement of the puppy. The Buyer will pay transportation costs, if any.
This dog/puppy is to be sold as a pet. This dog is being sold with limited AKC (American Kennel Club) registration, there will be no consideration for breeding. The AKC will not accept any litters produced by the breeding of this dog for registration. Limited registration prohibits the buyer from showing this dog in confirmation shows. AKC registration allows the buyer to register this dog and to enter and attend sanctioned obedience trials. It shall be understood that at the time of sale, this dog is NOT considered to be for show or breeding, but representative of its breed and is suited as a pet.
If the dog/puppy is unsatisfactory and is to be returned to the seller, it must be done within of one (1) week from the date the dog was delivered to the buyer. The dog is to returned to the seller at the buyers expense and must be in the same physical condition as when it left the seller in order for a exchange to another puppy.
Seller guarantees that the dog/puppy is in good health and has received appropriate medical inoculations and care. Seller will provide the buyer with medical charts detailing treatment dog has received under seller's care and future care seller feels is essential to the dog/puppy's well being.
Seller is not responsible for sold dog if it has suffered neglect, mistreatment, or exhibits temperament faults that are the result of lack of training or abuse while in the possession of the buyer. Lack of training and/or socialization on the part of the buyer does not constitute poor breeding on the part of the seller. Seller does reserve the right not to replace the puppy or any money(s) to the buyer if the puppy was/is mistreated which also includes improper diet. In which case, no puppy shall be replaced to protect any future puppy from going through any type of mistreatment or concern.
I HAVE READ AND AGREE TO THE ABOVE__________________DATE________
The Buyer and Seller agree to a one-year (1) from date of purchase warranty against disabling congenital/genetic defects. Determination of a congenital defect is to be made by the unanimous agreement of two unassociated veterinarians agreeable to both seller and buyer. Cost of the opinions is to be assumed by the buyer. If a problem develops that is proven to be the seller's responsibility, the Seller will either (a) replace the dog (b) reimburse the buyer for veterinary treatment up to but not above the original cost of the dog (c) refund of ½ of the purchase price provided the living dog and its registration papers are returned to seller/breeder. The choice of options will be the sellers. The seller is not liable beyond the the original purchase price, and must be promptly notified of any problems in writing by the buyers veterinarian within 24 hours of any illness and follow advice of sellers veterinarian. Under NO circumstances is the seller to be held responsible for medical services not authorized by the seller in writing nor any shipping expenses. All papers returning ownership to seller must accompany the dog/puppy at the time of return. In case of death an autopsy must be obtained at the buyers expense within 24 hours of death to establish cause and all medical records must be provided to the seller. Since theses conditions may be caused by environment and injury, trachea problems, legg perthes, liver shunt, hernias and luxating patellas are not covered under this warranty.In the event of a question regarding a defect, a second opinion from a licensed veterinarian of the seller's choice will be the governing opinion at the buyer's expense. In order for the above provisions to be enforceable a written statement and all medical records from the buyer's licensed veterinarian must be furnished to the seller . Additionally, the seller guarantees the dog against any debilitating genetic/congenital defects (a defect that would prohibit the animal from leading a normal pet life) for a period of one year from the date of purchase. The dog/puppy once again, to be replaced at the same value as originally purchased. A replacement dog/puppy shall never exceed the original cost. If the buyer chooses a replacement dog/puppy at a higher price, the buyer is to pay the difference and all associated costs and fees.
If the buyer requests delivery, it shall be airfreight, prepaid to a designated location. The buyer assumes all costs, responsibilities, and liability related to shipping, including, but not limited to; air, land or water transportation, quarantine expense, other vaccinations not included in the "Sales Contract", food, care, injury, death, other health related issues, and/or all other third party handlers.
Please have a licensed veterinarian check the puppy teeth at 6 and 8 months of age, to remove any retained teeth if necessary. We suggest consulting with your veterinarian about the risks of using LEPTO in any shots, or adult boosters.
The buyer agrees that he/she is not acting as an agent in the purchase of this dog/puppy and that the buyer will not sell this dog/puppy or any of it's offspring to any agent, pet store, or guard dog business. The intent of this contract is to provide the buyer with a quality pet. No warranties or guarantees other that those stated have been given or implied. Buyer Initial ___________
Should the buyer decide to relinquish ownership of this dog/puppy at any time during its life for any reason other then those directed by law, buyer agrees to return the dog/puppy to the seller by safest means possible that will not endanger the life, welfare or well being of the dog/puppy. All costs incurred for the return of the dog/puppy as well as any expenses resulting from medical treatment and/or training, reconditioning or socialization will be the responsibility of buyer. All registrations both (litter and permanent) must accompany the dog/puppy. This dog/puppy may not be sold, or relinquishment of ownership to another party unless agreed by seller and expresses in writing by seller to buyer. No dog/puppy shall be registered with any other affiliated registration service other than AKC, including CKC(Continental Kennel Club), APRI or ACA, etc. If at any time the buyer is unable or unwilling to provide for this dog/puppy it must be returned to the seller under the terms specified above.
This agreement is governed under the laws of the State of Ohio and may not be altered, modified or rescinded unless agreed to in writing by both parties, and any actions resulting from non-compliance of the agreement will be settled in the county of Erie, the State of Ohio. Buyer will be held liable for all legal fees and court costs. Any placement costs, maintenance costs, boarding, medical and associated miscellaneous costs related to this dog/puppy will be the responsibility of the buyer. This agreement is made and signed by both parties to insure the well being and protection of this dog/puppy. Should the terms of this agreement be violated, whether incidentally or deliberately, seller will pursue the options as stated in this agreement to the fullest. Liquidation damages in the amount of $3500.00 will be payable to the seller by buyer in addition to the above cost and expenses.
This contract is non-transferable. If a puppy is to be shipped and the buyer delays to the previously agreed upon date of________/___________/______________ not by fault of the seller, buyer agree's to pay a boarding / handling fee of $10.00 per day per chihuahua in which must me paid in advance and cleared before the puppy is to be shipped.
By my signature I affirm that I have read, discussed and understood the terms and conditions of this agreement. I am aware of and fully understand the possible consequences of breaching this agreement.
Buyer signature______________________________________ Date______________
Buyer Address _________________________________________________________
Buyer Phone number____________________________________________________
Sellers signature _____________________________________Date_______________
Sellers Address P.O. Box:196 Milan, Ohio 44846_____________________________
Sellers Phone number (419) 499-4258_______________________________________
Total pages in contract THREE (3). Buyer Signature___________________________
Contract last origination/modification date: January 3rd, 2004.