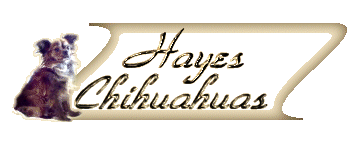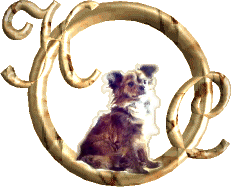 My Awards!!


Dear Laurie,
First I would like to Thank-You from the bottom of my heart for
my new best friend! I have named her Mi Hija, which means my
daughter or my loved one. She is the most adorable little thing
and has changed my life. I find myself in a hurry
every day to get home and be with her.
Second, I have a favor to ask of you. I would like you to put this
letter one your web site. Not that your web site isnít fantastic
because its one of the best Iíve seen but I want everyone to know
just how special you and your dogs are! I want everyone to know
about the wonderful experience I had in looking for my new best friend.
I started out not sure of what I exactly wanted when I came across
Laurieís ad. I called her and explained to her that I just put my
18-year-old poodle to sleep and was still very broken hearted.
She invited me to her home to visit her and all of her family
(and yes Laurie considers all of her dogs family).
The first time I met Laurie I felt as if I had known her all my life
and I knew that she was something special. She has a lovely
home and family of which I find important because its all an
intricate part of what shapes dogs personality. While I was i
nterviewing Laurie, Laurie was interviewing me. I later realized
that Laurie had her standards to and only a loving home will due
for her babies. It was now time to meet the rest of the family
(the four legged ones). I now understood the phrase ďLove at first siteĒ.
Mi Hija was only about a week old the first time I saw her and
Laurie has a strict policy as to when a puppy is ready to go to a
new home so the next month seemed like a year! I called every week
to see how my new puppy was doing and Iím sure I was a pain in the
neck but Laurie was always eager to update me.
Then came the day my baby was ready to come home.
It was 7:00pm when Laurie called me and she must have heard
in my voice how excited I was because she let me come that very
night even though I couldnít get there before 9:00pm.
Laurie is like a walking dictionary when it comes to Chihuahuas
and she will make sure you know everything you need before you go.
She even made sure I had food for the next day due to the time
and no stores being open. She also provides information on her web site
and encourages you to call if you have any questions at all.
Mi Hija will be a year old next month and Laurie is still there
for me for whatever question I might have. I do plan on getting another
Chihuahua and would not even consider getting one from anyone
else other than Laurie!!
! I would be more than happy to talk to anyone thinking
about getting a dog from Laurie. She is honest, genuine
and most of all she knows her Chihuahuas.
I Love You Laurie!
Cindie Henningsen
Dear Laurie,
I have been in search for a chihuahua breeder who really cares about their puppies.
I must say, that you took your time, answered so many questions and I am so pleased
with the puppy that I recieved from you. He is simply the most precious thing in my life.
His personality is perfect, and you can tell that he was handled with the up most care.
Where ever I go I am asked where did I get such a beautiful chihuahua, and I always recommend
you Laurie, because most people dont take the time to worry about where there
puppy comes from or how much care goes into it, they worry about price.
They are to close minded to see in order to get a puppy with
personality, love, and wonderful quality, you have to look at the person who
is handling the puppy. I will forever hold you in the highest reguards for you Laurie,
are what a breeder was intended to be. One who thinks of not only the puppy,
but the new owner as well. I can never thank you enough for allowing me to be an
owner of one of your precious puppies, he makes my families lives complete.
Thank You from the bottom of our hearts,
Sam and Family
Dear Laurie,
I just have to take the time to thank you for my puppy.
She arrived safely and is doing well. This is the first time
I bought a puppy over the internet and I want you as well
as your future customers to know just how pleased
I am with this transaction. Laurie is a very honest breeder
who not only thinks about her puppies, but the homes
they are going to. She helped us every step of the way,
keeping in contact with us and sending us pictures of our
baby girl as she grew. I was so pleased with her, and my
vet said that she is a great quality chihuahua and in perfect health.
I named her Sadie and I just want you to know
that I will recommend you to everyone I know.
Sadie will have a wonderful home with us.
Thank you again for our Sadie,
The Barnetts
Hi Laurie,
Just thought I'd drop you a line and let you
know that Tiffany, the brindle and white female
I bought from you last December is doing great.
She is really turning out beautiful. I am so excited
about getting my breeding program underway.
Of course it will be a while before my girls will
be ready to breed as they are not old enough yet..but
I just wanted to tell you how pleased I am with Tiffany.
She is so precious. Don't remember if I've sent you
this picture of her or not so I'll send it to you so you can
see how nice she is. Feel free to use it on your web page
to show past puppies that you have sold if you would like.
Best wishes to you and yours. Nanikins Chihuahuas
Nancy Chapman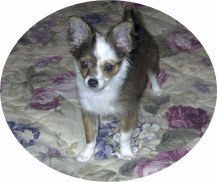 Laurie,
I thought you might like to see a picture of
Hayes Sebastian Del Sol. Such a big name for my
little fella! I want to let you know that I am
EXTREMELY pleased with him. He is just the
cutest! This picture was taken two weeks ago. He
has a great disposition and is quite a character! I
should have named him Napoleon, because he
came in and took charge! We go to our first
conformation show in May! Wish us luck !!!
Thanks again for such a great pup,
Yvette Hubbard
Laurie-
These past 2 weeks has been so fun! I have enjoyed having Bella
around
so much. Everyday she gets a little braver and more playful. I took her
to
the vet for a checkup and he said everything is great and that she
weighs
exactly one pound. Thanks so much for everything and for giving me the
opportunity to have such a wonderful little puppy in my life! -Mary
Letter of Recommendation
My experience with Laurie Hayes of Hayes' Chihuahuas has been
wonderful. From
the very beginning Laurie helped me choose a puppy that was right for
me. She
answered any and all of my questions honestly and happily. While my
Bella was
growing, Laurie and I stayed in contact through email, phone calls and
visits. This personal investment on Laurie's part made me feel
comfortable
about her abilities as a breeder and her character as an individual.
I've had
my puppy for two weeks now and I am constantly amazed at how
intelligent she
is and how well she has adjusted to her new environment. This not only
signifies excellent genes but also excellent breeding. I recommend to
anyone
looking for that special new addition to their family to seriously
consider
purchasing one of Laurie Hayes' Chihuahuas. I promise you will not
regret it.
-Mary Triplett
Dear Laurie,
Just wanted to say thank you so much for the happiness
you've brought into our lives. Sam is the most precious,
kind and loving pup ever, it's amazing how perfectly he fit
into our lives and loves us as if we had been with him forever.
The experience has been wonderful, thank you for making it
such an easy transition, especially with it being our first time
buying through the internet.
I look forward to doing buisness with you again and
would definately recommend you to anyone who wants
healthy, home bred, loving chi pups. Enclosed are some
pics of Sam for you to enjoy.
Love and Friendship,
Cynthia Murgas
Puerto Rico

Laurie,
I'm sorry I mailed you the next day to tell you how
delighted I am..she's wonderful and quite a hoot !
I'm very pleased , I feel bad you'd think I'd not tell you she's ok...
I've had some missing mail from time to time and can only think
it's because my server is changing from Attbi to Comcast .
Glad you bred the girls for a couple litters...keep a boy now !!!
I'd take either long or smooth coat female, just want a pretty one,
coat really doesn't matter.
I'll tell you, you did a great job with Joplin, she's such
a friendly loving girl, she rules the place and gets away
with holy heck because of her peek-a-boo cuteness...
I couldn't be any happier with her and Thank-you very much ...
.Warm Regards...Leslie
Dear Laurie,
I tried to send you an e-mail yesterday but got a message that the
message didn't go throught because you didn't have an e-mail address
at yahoo! So here we go, I'll try again.
The trip home went great. The baby slept, clutched to Grandma's bosom
the whole trip. He is doing great. Had him to the Vet yesterday and he
was very pleased with his overall appearance and thought he seemed to be
in excellent health. I take him back in two weeks for more shots.
He spent the day yesterday at my office and, of course, captured
everyone's heart. He met my brother also and they had an instant
bonding experience! He is just so sweet, cuddly and a little ornery and
I couldn't be more pleased. My best friend came to see him and brought
him a little stuffed elephant that is as big as he is and he just loves to beat
up on it. The Snuggle Puppy worked out great. I put the heartbeat mechanism
in it and he cuddled right up to it and I didn't hear a peep out of him all night.
If any of your future customers are interested in one they can find it
on www.epets.com.
Please feel free to put this letter on your web site with my gratitude
for such a lovable, beautiful puppy.
Barbara

Hi Laurie-
I wanted to share with everyone what a wonderful experience
I had working with you. From the day we first spoke until the day
I brought Penelope home, it was a happy and exciting
experience. Thanks to you and your beautiful babies I was
able to welcome a wonderful new addition into our family.
Penelope is healthy and happy and quickly became my
best friend. Although nothing can replace the one I lost, she
certainly worked her way into our hearts (and our bed!!).
Your professional breeding ethics and love for these animals
is obvious in all the babies. You can tell that my little girl
was and is truly loved.
I hope anyone looking for a quality puppy will come to you
and be able to find the perfect friend. I would love to work with
you in the future
(if I can convince the hubby to get another one),
and I look forward to seeing all your beautiful new litters.
I am so glad I found you.
Thank you for everything,
Jackie Carbone

Hi Laurie
I want to thank you for Cowboy! He is an incredible
dog. He is so sweet and so loving it's hard to believe!
He is the perfect dog for my mom.
It was an absolute pleasure to work with you.
You were very patient with all the questions
that we had and everything you told us about
Cowboy was very accurate.
It is obvious that you love your dogs very much.
I would have no reservations about buying
another dog from you.
Thanks for all your help and for breeding
such a wonderful dog!
Jennifer Keller

Just wanted you to know how much we love our new baby.
I think he is a wonderful addition to our home. I
have been shopping around for a while and was truly
looking for an exceptional male. I believe I have
found him in this little boy. I need to get you
address, as i accidentally took home Tempe's Pedigree.
I appreciate the time you spent with me and I also
appreciate you letting me change my mind on the order.
We have named him "Prescott". I will send you
pictures as he grows.
Thanks again Michelle

7 months ago I lost my best friend.His name was Frisco
and he loved me unconditionally.He followed me
everywhere I went.We took naps together, we sat in the
sun together and when I was feeling down because life
isnt fair sometimes he was always there listening and
understanding every mood I was in.
I never knew a more loving pet.Sadly he was not in good health.
He had a bad heart condition, but he didnt have a bad heart.
I found myself missing him more then I can ever say.
putting him down was devastating.
One day I was surfing the internet and checked out Chihuahua
breeders in my area.I was only looking I told myself,
I was not ready to love another dog. Fate had a different plan for me.
Found Laurie Hayes Chihuahuas.I looked at the pictures of
her pets and puppies and I felt a warm calm come over me.
The little faces of her dogs stirred my heart.
I began to feel I could love a dog again.
I was very impressed with her extensive website.
I didnt find any breeder that took that much time to
explained everything about herself and her dogs.
I found out she had a litter of puppies born that day.
I had my mind set on a smooth coat and she had some in this litter.
I went to her home to see them.
Laurie is very particular about her dogs not picking up
any germs from the outside world so we took our shoes off
and wiped our hands with sanitizing wipes.
Since these puppies were only days old she held
them while we looked.
To make a long story short It was puppy love.I bought 2 sisters.
I had to wait 2 months to bring them home .
They still were with their mommy.
I visited them and got updated pictures on Lauries website.
Laurie is always available to answer questions.
Finally I got to take my babies home.
They have brought me such joy.One is Tia the other is Princess.
My son who is allergic to dogs discovered he was not allergic
to Chihuahuas so back to Laurie we went.
My son now has a new best friend, a little boy named Peso.
I cant say enough about how conscientious Laurie is
about everything.I know in her heart every puppy born
is part of her family and she loves them all.
If your looking for your new best friend I cant say enough about
Laurie as a breeder and a very special lady.
Lydia Guffey
Letter of Recommendation
I want everyone to know that Laurie Hayes
of Hayes Chihuahuas is an excellent breeder.
It has been a wonderful experience dealing
with Laurie.
She has taken the time, knowledge and love
to produce such a wonderful breed.
I was a little skeptical doing business on
the internet.
After contacting Laurie I felt more at ease
and knew I was on the right track.
She quickly answered my questions and concerns
regarding buying a puppy from her. I am pleased
to do business with her and shall continue to refer
anyone who is interested in a chi puppy.
Ms. Hayes is a loving and caring person who is looking
out for her little babies because all her puppies
are happy and have great personalities which makes it
easy to love them.
Laurie greeted me with a hug and took
the time to explain everything I needed
to know about my new puppy.
Even my stuffy husband warmed up to
the new puppy
and gave him a name (Chewy).
I love my little puppy.
I recommend Laurie Hayes of Hayes Chihuahuas
to anyone who is looking for that Special Chihuahua.
Thank you Laurie Hayes.
The Cordova's

To: Laurie Hayes and all prospective customers of Hayes Chihuahuas
From: Lynda and Donny Saveski
Re: The quality of puppies provided by Hayes Chihuahuas
My husband and I gave another puppy very careful consideration before
we even began researching breeders in the area. We are newly married,
in a new home and currently have two adorable dogs,
Reginald Peabody III (a 3 yr old orange/cream Pomeranian)
and Samson Fitzpatrick( a 2 yr old Cavalier King Charles Spaniel/Poodle mix).
I have always wanted a chihuahua and once we agreed that we were ready
for another family member of the four legged kind we began our search for
the perfect bundle of joy. Most of the breedersí websites we visited didnít
show many photos of the pups available or of their growth from newborns
to ready to adopt at 8-10 weeks. We really didnít want to have a puppy
shipped to us either so we restricted our search to breeders in Arizona.
We went to meet Laurie and see the puppies she had available a few
weeks before Christmas and were extremely pleased with her personality,
the condition of her home and the puppies themselves. They were clean,
appeared well-mannered and comfortable with people. My husband agreed
to purchase our puppy as a secret Christmas present for me so I was
unaware of his visit to see the little puppy and check out how much
heíd grown and changed two weeks later. We wanted to be sure that our
new puppy was healthy, cute, strong, and well-adjusted. I hate to see
animals treated shamefully. I have been to certain breedersí homes in
the area where I couldnít imagine human children growing up in that
environment let alone a puppy. The carpet and furniture was filthy and
tiny dogs were running around dirty, skinny, and displaying behavioral
problems at 6 weeks. That was not for me and there is no way I would
pay someone for a dog from that kind of environment.
Our puppy, Theodore Paddington I, is so sweet and loving.
He is calm, playful, silly, and adventurous as well as lacking any
behavioral problems you generally see with puppies who have been neglected.
We couldnít be more pleased with how physically beautiful he is.
He is progressing nicely with learning to potty outside and enjoys
sunning on the patio and streaking through the grass at top speed.
We have no reservations about recommending Laurie because we feel
she genuinely cares for her puppies as members of her family not just
potential money in the bank. She keeps a clean house and her puppies
stay in a playpen with their mom not in a cage. We feel that it is important
to purchase a puppy that is not only physically sound but also one that has
been well-loved by people from the beginning of its life. Snuggling a puppy
, talking to it, and letting it explore your home make for a well-adjusted pet
who is not fearful around new people or places. There is no way for a puppy
raised in a cage with no human contact to be anything but a behavioral
problem! Why take on that responsibility when there are respectable
breeders like Laurie who truly love their puppies and provide a comfortable,
safe and nurturing environment for them? We feel that if you want a puppy
that will flourish in your home then please make arrangements to purchase
a puppy from Laurie and donít waste your time and money with breeders
unless you visit their home.
Sincerely,
Lynda and Donny Saveski
P.S. please see attached photos!